UPDATE 3-31-10: Even Apple is getting excited about the release on Saturday.
UPDATE 3-27-10: We are a week away, and Mashable reports that Apple is SOLD OUT of the iPad- iPad Sold Out
If you're looking to pre-order an iPad today, you'll notice that shipping dates have been pushed back to April 12th. What's more, Apple has removed the option to pick up your iPad in-store. It appears Apple simply can't supply the demand for the first week of iPads, writes Planet iPad (via 9to5Mac), suggesting high demand for the device.
How many iPads have been sold so far? Some estimates say around half a million – a higher demand than many expected.
UPDATE 3-21-10: Seriously? Almost two weeks to go? The article in this month's WIRED by Steven Levy (article is not available online yet.) does a good job of outlining why computing is about to change for the better. I am working on a more through response, but until then I can give you a tid bit. It actually came from a meeting with a potential client, looking to do some iPad development. Seriously, everyone in the room was excited by the next-generation interfaces we can come up with. My mentor was in the room and he said something that got all of us nodding.
"It's not going to be about traditional data entry. We're going to be defining new ways of engaging with the data, adding data, and manipulating information with swips, pinches and gestures." Makes me want to turn swiping and pinching back on for my MBP. But alas, my Windows 7 instance doesn't really "deal" with that type of input.
What are we about to unleash? What will the interface and UI people of the next few years come up with that will change the game? If you don't think the iPhone changed mobile computing, well perhaps you should study up on the devices all the other manufacturers are producing trying to catch GEN-1 of the iPhone. I'm afraid all the powerpoint decks in the world will not help non-Apple companies stem the coming rush of iPad transformation. I'm picking mine up at 9am on Saturday April, 3. And you know what I'm going to do first?
Play doodlejump. The game that got me hooked on my son's iPod Touch.
+++
UPDATE 3-17-10: Got this little note from Apple today. Have you gotten yours yet?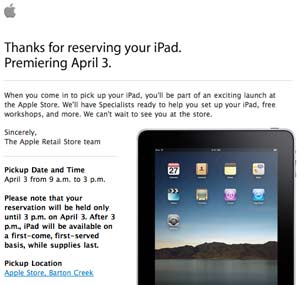 And don't try to pick mine up. They'll be checking IDs. (clap)
UPDATE 3-15-10: Did you pre-order your iPad on Friday? I did. I'm going to pick it up on April 3, at the nearby Apple store. I have until 3pm to grab it, or they will give it to someone else. They've even got their distribution system worked out, having dealt with the iPhone releases. I can't wait.
What's the first thing you are going to do on you iPad? I'll probably play DoodleJump.
+++
UPDATE 3-10-10: Starting March 12, pre-order from the Apple Online Store or reserve for pickup at an Apple Retail Store. First available April 3, 2010. Get ready, cause here we go!
Here's the latest post on the iPad and a link to the first iPad commercial that launched during the Oscars.
[When I pick mine up on April 3 I will be forever rebranded as iDad!]

+++
I still can't pre-order my iPad, but I can tell you a few more tidbits about it.
1. It will NOT, nor will it EVER have FLASH. (FastCompany)
2. It's gonna be bigger than the iPhone. (and I mean market share rather than just screen size.)
3. Like the early iPhone days Apple will have a hard time keeping up with the demand.
So imagine, you are about to release a product and your biggest worries is inventory! What a problem to have. Not will it sell, but how can we increase the numbers we can manufacture so we can sell MORE.
+++

I hope you weren't holding on to a lot of Apple stock hoping the doubling was going to continue unabated. It turns out that "leading up to" and Apple big event is the best time to grow Apple stock value. And since we've all be working so hard to figure out what Apple was about to release, the "after party" is usually a bit more glum.
It's nothing to worry about. I guess if you are a speculator you'd sell all of your apple stock the day before the big party. And then buy again sometime in the following weeks as the public perception comes back to earth and Apple's business model shows it's basis is revenue and not trying to do magic tricks.
Everyone at the iPad announcement wanted a magic trick. We'd see the vizualizations (like the one here to the right). We'd see videos of what these devices would look like. There was very little that Steve Jobs could pull rabbit-like out of his hat. His two major bombs: $500 starting price (a virtual gasp in the audience, as most were guessing in the $700 – $999 range the day before the show. And ship date: 60 Days.
I'd have mine or order if there were a place to pre-order them. Amazon has a series of hilarious screens if you go to their site to order your iPad. And believe me Amazon the store wants to be in line for the gravy train of sales that are going to come out of this device. (I am putting my images into a new post that will be up shortly.)
UPDATE 1-27-10: Welcome to the real world folks. Imagine this, take your MacBookPro, break it in half and hold the screen-only half in your hand. Apple's iPad! Any questions?
UPDATE 12-26-09: So even if they are calling it the iSlate iPad, the new tablet Mac is coming in January. If we are lucky it will be on sale as early as Feb. Wow! 
Apple's New Tablet To Be Baptized iSlate? Let's Dig A Little Deeper from TechCrunch
Here's what I think happened, based on the evidence presented above: Apple decided on the name iSlate for a new product it was working on, whether it will ultimately turn out to be for their new tablet computer or not, in November 2006. That same month, they moved to file for a trademark for the name in the United States and Europe under disguise, setting up and using Slate Computing LLC as a shell company, and securing a couple of available domain names through Mark Monitor (islate.co.uk, islate.biz and islate.info).But getting back into the swing of it. ;-)
+++
Say what you will about the Kindle, and I certainly do, but Apple's entry into the netbook market is going to hurt a lot of the other players.
Kindle/Amazon (although they can sell the books to iPhones already, so the book sales are safe), Dell/HP/Acer/ARM/Asius.
Even if this visualization is not real, you know it will be here soon enough. We waited for the iPhone to finally appear for over 2 years. And look what that has done to the market. Now come the apologists for the other manufacturers who will say, "Apple is late to the netbook game, Apple will not be a factor… " And all I can say is goodnight and good riddance to a category that needed to be put to sleep.
How about this reversal, "Apple's new Netbook Killer!" Or "Apple Knocks Out the Kindle for Good!"
And to all of you who have ARM-powered netbook/laptop-wannabies, I'm sorry about that. Perhaps it's not to late to take/send it back. "Don't let your friends to netbooks."
@jmacofearth
permalink: http://bit.ly/apple-ipad
The latest:
The entire Uber.la Apple iPad coverage can be seen via the iPad-iWay tag.