Frenzic Review (5 of 5 stars)
Demo: 1 hour of game play
Cost: $9.95 or $14.95 depending on your level of enthusiasm for the game. I went full bore!
Platform: Mac, iPhone, iTouch
Developer: The Iconfactory and ARTIS Software
I don't think I've been drawn and quartered by a game so quickly. Frenzic is a beautiful logic game that pushes your brain harder and harder to place green, orange and purple pie slices into several 6 slice circles. Up pops the shape, you file it, up pops another. As the clock winds down in the middle the game gets progressively more intense. Within my 5th game I was yelping aloud as the slices would appear that I could not place.
All I can say, is get this one! Your brain will love you for it. It's bright and beautiful. It's go a social media website component that I haven't explored, but the game alone is, as they say on their site, "Addiction never felt so right."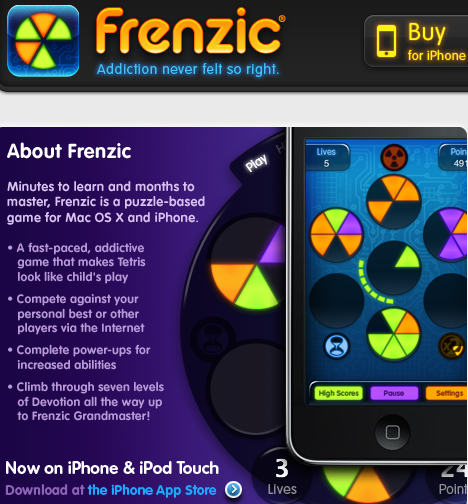 @jmacofearth
permalink: http://uber.la/2009/01/brain-training/