<creative> + <social> + <content> = <measurable success>
Definition: social media strategist austin texas
I am available for public speaking or  social media consulting: jm[at]uber[dot]la or via phone at (512) 524-6684.
In addition to consulting I work with digital influencer-marketing agency Ivy Worldwide. I write strategic online marketing plans for small and medium businesses and manage outreach programs for several clients.
Giving Back: 2013's Charitable Support Recipient is non-profit ResistAttack.org who is providing education and self-defense materials to women at risk of violence. As part of my contribution I am providing online marketing and brand consulting and helping guide a large Google AdWords budget that was awarded as part of a 2013 Google non-profit grant.
Each year I make a portion of my work and efforts available to small businesses and non-profits for free. With a little help we can improve the world. If you have a non-profit or small business that is seeking support contact us via AustinProbono.org
This visual introduction to social media marketing (video) explains what I do: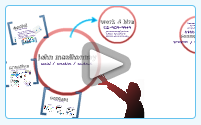 New: Small Business Case Study: Can Social Media make a difference to your small business?
There are many ways we can get started (on-site at your business, one of our offices (West Austin or East Austin), or via web/video call.
A. Training & Educational Presentations (working with teams & groups to kick start or reenergize your social program)
I have presented to large groups at Austin's South by Southwest Interactive festival as well as smaller groups of high-level executives on online marketing programs and social media strategies.  Get Started Form
B. Consulting (Writing the Social Media Strategy Plan for your business and team)
Let's map out the strategy for your next program. I can help by-the-hour or by-the-project. From creative direction and team/project leadership to technical deployments, I've done projects big and small, and I can bring that learning to your project. Let's cut to the chase and get it done.
C. High-Performance Working Sessions (Let's put a working session together for your specific needs)
The following half-day sessions are meant for small and medium-sized businesses. They can be presented to your team in person or virtually using WebEx or simliar program.
West Austin office for 1-on-1 or small group trainings: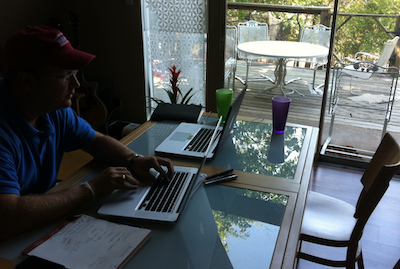 *client pictured YourHoneymoonGuru.com
East Austin office for consulting and training: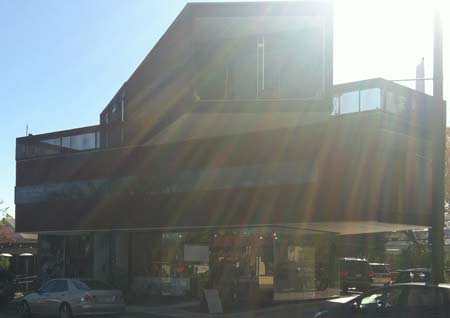 What does a social media strategist do?
What do you say when people ask, "What do you do?" Ummm. I say, "I'm an online marketer." What that means is I do whatever it takes to build online marketing programs that sell services or products on the web. I've got a long tenure in design both for the web, interactive, and print. I've done enough SEO and PPC work to be competent in most systems and best practices. And I've got a good handle on how to put together cohesive campaigns from web, to email, to direct mail, and bring the whole thing together with analytics and optimization to create revenue. Sure, I do social media too, but these days there's a lot more work that needs to be done. Putting up a Facebook fan page and tweeting some coupons on Twitter isn't going to do much. You've got to know how to create content.
That's what I do. I create content. Uber.la is my sandbox. (Check out the Social Media for Business page for some good examples.)
A few of the networks you will find me on:
If you need help with your social media strategy, give me a buzz. I offer a free social media audit and initial consultation.
I am ready to engage with your social media or online marketing team and accelerate the progress towards your business goals.
Thanks for stopping by,
John McElhenney
Social Media Strategist
Physical: Austin, Texas / Virtual: Anywhere