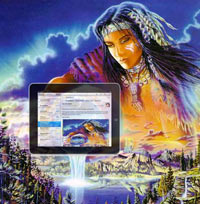 UPDATE 4-24-10: Whew! Some good and some bad. Overall, my experience with the iPad alone was positive. An 8 on a scale of 1 – 10. The good: didn't miss PPT one bit, was happy to not create any content for 24-hours; enjoyed negotiating with my daughter and son for the iPad through the course of Friday afternoon and evening. The BAD: email really sucks (if you have more than one account to check, the back and forth in MAIL is awful); and I tried several ways to edit this post using Safari and then even the WordPress iPad app, but something kept getting messed up. And I really hate the way the App Store basically closes out every time you select an app to download. If you've tabbed in on a category, you are set back to square one. But I survived.
UPDATE 4-23-10: I just completed my last PPT for the day. And once I hook up my email accounts so I can check them on the iPad, I will turn off the MacBook Pro for 24-hours. Starting at 9AM. Oh the wonders we will learn, the frustrations we might find, and the discovery of just how far can a heavy-user, writer, and tech worker get from a full-powered computer, in the course of one day. A Friday, yes, but a full day nonetheless. Wish me luck. [MBP over and out.] The last keystrokes will be "update" on this post and "shutdown" on the Mac. wOOt!
My iQuest to discover myself and my iPad in 24-hours alone together.
[Er… I have PowerPoint work to do today, so the iPad Vision Quest is off. My daughter nailed me on it. "DAD!" she yelled as she got home this afternoon. "You were supposed to be on the iPad today." I'm not trying to pin this on Microsoft, but…]
We've now had our iPads for a week or so. And many have expressed the ennui that comes with any computer purchase. "What now?" or "So what." And I do count myself among the, "So What," group. However, I do believe the revolution has begun.
So here's my plan: On Friday, 4-23-10, I will go cold turkey to live with the iPad for 24-hours with nothing else. (Wait, can I make or take calls on the iPad with Google Voice or something?) Or to be more clear, I will give up my MacBook Pro for 24 hours. And other than my "phone" needs that will be satisfied with my Blackberry, I will use only the iPad to do my work.
Now the caveat is, I don't have any critical path business meetings that day, YET. And I don't have any key deliverables that day, as far as my client's needs. So it's not like I'm going to jump off my workflow process into a crash and burn drama that could happen were I to need the iPad to do "actual work." (grin)
Okay, so here's what I've got so far.
Today I purchased Keynote, Pages, and Numbers for the iPad. ($10 each)
I also purchased Alias Sketch (a professional grade drawing program) and NOVA (a full-motion iPad-optimized game, the one that was presented in the iPad launch presentation).
I've begun weeding my mp3 collection for what will fit in a working amount of space on the iPad. (Try that alone as an exercise. Wow, quite fun. Take your entire music collection and choose 10% of it to take with you.)
I opted for the 32 gig iPad. And I'm nearly full. But I'm not expecting to put all my music on it. My 120 gig iPod could be filled several times with the collection I have amassed over the years.
That's as far as I've gotten. I have a few other tasks to complete before I go iPad-centric.
Email accounts to iPad. (IMAP only, of course)
A full charge and good sync of contacts and calendar data the morning of Wednesday 4-14-10.
Look into the movie streaming from other machines software that I heard about on Thursday. (Air Video Server works fantastic. I'm watching Generation Kill on my iPad from raw AVI files. The MBP is cranking the conversion as I'm watching in real time on the iPad. Amazing!)
I think that's it. Of course I'll need food, shelter and water. And WIFI!
My signal is strong, my expectations are high and my iPad is looking more and more like home.
@jmacofearth
permalink: http://bit.ly/iQuest
Note: I'd love to hear about YOUR iPad survival software. And if anyone wants to join my iQuest please let me know. I'd be happy to co-blog it with some iFriends. Even if you're only virtually connected to me and living in Portland Oregon. (grin)
Update 4-15-10: I spent a good bit of time last night with the iPad getting more parts ready for iQuest day. And I AM beginning to think the iPad will actually be enough computer for many people. If email, browsing and entertainment are your primary computing tasks, the iPad is almost everything you need. I was watching a movie last night, using Air Video Server the content was streaming off my MBP. My experience was, "Wow, this is fantastic!" The video was sharp, bright, and even over wireless, glitch free.
Today I'll be setting up my email accounts to do a test-run on that functionality.
And finally, if you like first-person-shooters, you really need to buy and play NOVA. Unreal immersion.
I wonder if I did go the 24-hours without food or sleep if I'd start having visions? Maybe not this coming week, but it's a thought.
++
Update 4-14-10: I'm almost positive this app is NOT part of the iPad Survival Kit. Um, Team iTehu, which is it the "Health Pad" or the "Health Calc XL?" And are you planning on offering S, M, L versions of the Health Calc Pad thingy? I hope so.
++
The iQuest for the iPad illustration was based on the VisionQuesting Indian from this site.