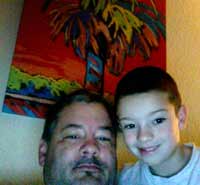 In the movie Stuart Little, the boy wakes early and runs around the house, "It's today, it's today, it's today!"
This morning, 7AM, my son quietly got on top of me and suggested we leave the beach in the dark so we would be closer to the Apple store when everyone woke up.
As we discussed his plan I told him about my dream of being in line for the iPad and never actually getting it. His dream, he said, involved a triacorn (three-horned unicorn) and a singing iPad.
So we're leaving Port Aransas at 7:20 for the long haul back to Austin and "our" iPad.
Here we go…
And two more: