UPDATE 4-12-11: Yvonne with Credo Mobile reached me today on my new ATT iPhone. And I am very happy to say we worked it all out. Now my final Android review can be about the Samsung Transform (Not Ready for Prime Phoning) and not about Credo. I still love the Credo concept, but they do not have a phone that will work with my current job. Here's the final GREEN LIGHT from Yvonne.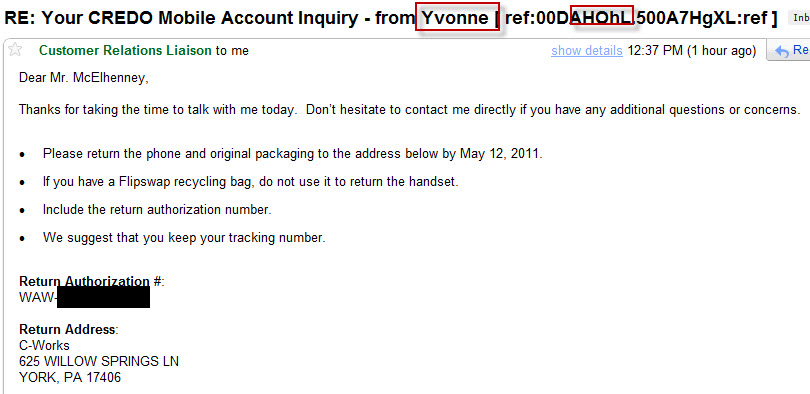 UPDATE 4-11-11: Got a tweet and a VM from CredoMobile. Let's settle this in a better way. I mean, really it's about the phone, not the service. Since I was trying to stay with Credo and I can't. No fault either way, right?

[UPDATE 4-5-11: It just goes to show you, trying to do the right thing doesn't always deliver the right results. Today Credo informed me, that not only was I going to be hit with a $325 termination fee, since their phone doesn't work, but they were not going to take the Samsung Transform back (I paid $200 for the priledge of testing this not ready for prime time phone). And If I wanted to terminate my mom's line as well, I could pony up an additional $125. Well, the post is coming shortly documenting the emails and process with Credo. That's $675 bucks for TRYING TO STAY WITH CREDO when I wanted a REAL SMART PHONE!!! MicroUpdate 4-8-11: still no callback by Credo.]
I've made peace with my Android phone. It's not the top of the line, but it works. I have a Samsung Transform via Sprint by way of Credo Mobile. Oh well…
Over all this is a nice phone. It's not an iPhone 4, but only an iPhone 4 is that. What it does do is handle the business of phoning and texting quite well. Okay, I say that and I have to say I have not made peace with the slide out keyboard. When I try to use it I always end up firing off some new application or completely bonking the application I'm in, usually texting. And the phone goes off to do something else, and I can't figure out how to get back without returning to home and then reopening the Messaging program. I'm sure I am missing some vital finder app.
And I'm actually not all that thrilled by how email is handled in Android. I'm using the native mail app to sync with my work outlook account and it is clunky. When you have a message open to read, the options on the screen are Reply or Delete. I don't want to do either I want to look at the next email message. I'm looking into Touchdown for Outlook, there's a free version that I can test out. But that's more fiddling. For a while longer I'm going to just deal with it.
And then there are the pregnant pauses. The Transform will go into a meditative black screen… I know it is doing something, because I clicked on an app button or closed a window, and it has to think real hard about what it needs to show next. At first I thought it was because I had too many apps running. But then my app killer dispelled that idea.
THEN… an ANDROID UPDATE!!! 2.2 Froyo! Supposed to make things a bit snappier. And after I downloaded and authorized the update… I waited, and waited. I had begun to assume that these periods of blackness were merely transitions. So I probably waited longer than I would have otherwise, about 45 minutes, to finally declare that the Froyo update had bricked my phone. It never came back. And I learned how to Reset the Transform to factory presets.
The good news is I had my day one and day two articles to remind me what apps were critical to my happy Android life. The bad news, we still have 2 – 10 second transitions where the phone is literally doing nothing but showing a black screen. And it's not just when I'm switching between apps or launching something new. I almost threw the phone out the window when I couldn't answer the phone in time, due to some meandering system quirk that made the phone unresponsive.
I still have not culled my Google Contacts on my laptop to then cull the huge number of names in my phone directory. I think I need a max of about 40 folks in there. More than that and scrolling and finding who you want to call is a pain. Everyone else can wait until I get home to my laptop.
What works nice is the phone app. I love the mail log, and visual voice mail. And currently I'm getting free transcriptions of the voicemails that I will probably pay for when the 30 days is up. Or switch everything to Google Voice which is free. I'm thinking about it.
And I love the ring tone that was set up by default on my phone. It's unlike anyone else's I've heard. And it's just different enough to sound really new to me.
But the real jury is still out. Am I having fun? Am I spending more time thinking about my phone than I want to? Would I take my Blackberry Curve back? And what if I had an option for an iPhone 4? What would that be worth? What's it gonna cost me to get out of my contract? Decisions for the future. For now Froyo and I are still getting to know one another.
@jmacofearth
permalink: http://uber.la/2011/03/my-android-phone/