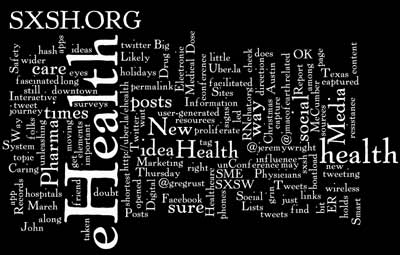 A few eHealth Sites we are fascinated by:
The Healthcare Buzz (topics of interest from around the web):
And now I have made my eHealth Mobile Apps presentation on Slideshare:
Here is my related Twitter List eHealth.
WOW-Recent eHealth Quotes:
In the past few weeks, I've had the same question from a few different people, so I figured I'd try to answer it here as well. It's deceptively simple question, but one that has a few marketing traps which anyone could fall into. Here's the basic question…I'll paraphrase:
"We have this new drug coming out that's not yet approved, how can we use social media to build awareness for it prior to launch?"
Short answer: you can't.
From: Ockham's Razor Meets Pharma Marketing
The Lucian Leape Institute at the National Patient Safety Foundation released today a report that finds that U.S. "medical schools are not doing an adequate job of facilitating student understanding of basic knowledge and the development of skills required for the provision of safe patient care."
From: Med Schools are falling short in teaching how to provide SAFE patient care [study results]
Tweets that opened my eyes just a little bit wider:
@jeremywright: Any way to find shortest ER wait times @ downtown hospitals?!!!
@jmacofearth
permalink: http://uber.la/ehealth