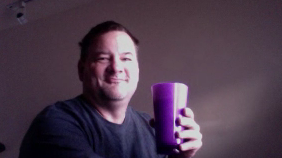 IDEA: Joining with others to influence and support positive action.
You get what you give. What you pay attention to, that is what you are. Positive or negative energy, your focus?
Let's get clear about something here: I have negative and positive intentions. I am the one who chooses what to give voice to. And I've done my share of complaining. Even if I don't think I'm whining, in some ways that's exactly what I'm doing. But that's not what I want. The negative energy, negative review, critical voice, is not what I want to be known for.
If my epitaph reads, "He was a smart asshole." I have failed. But sometimes that's what makes me chuckle. It's not actually the energy I want to surround myself with.
This is a new concept I'm wrestling with: How do we add more of the positive to our lives and less of the negative?
Let's get clear on when we are being negative and when we are being positive. And then the goal, in my case, would be to surround myself with the positive influencers in my life and decrease my time with the negatives. (See post Positrons and AntiBodies) This works in business as well as personal intentions.
So here's my idea. I'm starting a positive force collective. And here's what you will get with your inclusion and membership: NADA. Well, you will get good will, and positive interactions. There are no dues, there are no applications. Just let me know if you'd like to be included in my positive business network.
In the near future we will connect using Skype or Google Hangouts for a simple three-step check-in:
1. Share what you are working on.
2. Ask for any assistance you need.
3. Offer additional insights into exciting new ideas or technologies that might benefit the group.
Circle me on Google+: jmacofearth or email me at john.mcelhenney at gmail dot com
Born of the Agile Daily Standup, I am sure we can give and receive vast support to each other in a quick HANGOUT and CHECK-IN moment. If you would like to be notified of the Google Plus Hangout when it launches, please send a message to john.mcelhenney(at)gmail(dot)com.
And let's get on with doing good and supporting each other on the POSITIVE side of things.