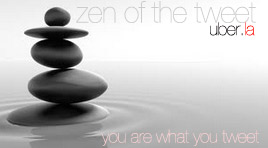 This is how you tweet.

+++
Now: I'm Here. / jmac breakthrough tweet, date unknown
Forget everything you've heard about how to tweet, when to tweet, what to tweet. Be honest, be realtime, and not a bot. jmac tweets 10-10-15
+++ the "no thank you" theme +++
Dear Tweeters, don't think that because I start following you, you need to thank me. I'm just growing my followers. THX- jmac tweets 06-11-15
I can tell you think I'm kidding. But thank me for unfollowing you and watch how fast I change my mind. Go. / jmac tweets 11-23-14
Auto DMers on Twitter. I did not JUST CONNECT WITH YOU and I don't want your eBook or FB page. I just followed you on #twitter #dontthankme / jmac tweets 11-2-14
MESSAGE TO THE AUTO-BOTS: "thank you for following me…" YOU WILL BE DEFEATED. First step: UNFOLLOW. / jmac tweets 5-16-13
Please don't thank me for following. You're just pointing out that I have no idea why I'd follow someone who thanks me for following. – jmac tweets 8-8-14
If you thank me for following you you Twitter, I obviously made a mistake. / jmac tweets 8-18-14
Thanks for the follow, thanks for the follow. Don't thank me, RT me. Thanks. / jmac tweets 8-20-14
If you ask for a ReTweet you obviously haven't earned many. / jmac tweets 11-10-14
If you put the phrase "Please Retweet" in your Twitter bio you deserved to be unfollowed. Or "guru" or "expert" / jmac tweets 6-25-15
+++
When you put "quote" "christ" or "coupon" in your bio you kill my interest. Just like that. All about the same level. Let's converse. / jmac tweets 9-27-14
EVERY COUPONER & DEALMAKER will now be REPORTED and BLOCKED. I'm sorry if this offends you. BUT… YOU ARE SPAM to me. / jmac tweets 3-21-13
Maybe you thought it was a good idea to RT that deal or coupon or special. What are you a bot? / jmac tweets 5-26-13
+++ the biggest sell-out tweet I've ever written
JEBUS, will you guys please retweet my stuff, so I can stop retweeting my stuff? Thank you. (ReTweet This Please) / jmac tweets 1-26-12
+++
Do not AUTO your social media you frakin Auto-Bots! The point is to have a conversation. I can't tweet back to your scheduled tweet. / jmac tweets 5-23-13
+++
make the money and the possibilites multiply / jmac tweets 3-9-13
+++
I am declaring myself the virtual host for SXSW 2013. I don't wanna go, but I"ll stream and tweet and give free wifi to all visitors. #sxsw / jmac tweets 2-16-13
+++
There is nothing you can Tweet about me that I haven't already Tweeted about myself. / jmac tweets 3-4-13
+++
Is all that we see or seem, but a tweet within a meme. / jmac tweets 3-3-13
+++
Oh, I'm sorry, did you just AUTO-DM me on Twitter? Something about your BOOK, BLOG, FACEBOOK, or teeth whitening.#UNFOLLOW / jmac tweets 3-2-13
+++
If you don't have one or two spoof twitter accounts, you're clearly not in it for the fun. / jmac tweets 2-28-13
+++
That goes without tweeting. / jmac tweets 2-16-13
+++
First word on Auto-Tweeting, Scheduled-Tweeting, Auto-DMing. NO! If you're not LIVE your DEAD. / jmac tweets 2-26-13
+++
All things will come to their final resting place, eventually. / jmac tweets 2-15-13
+++
Think not what your tweet can do for you, but what your RT can do for me. THX / jmac tweets 1-20-13
I notice you tweet out quotes of others a lot. #quote Um, why? What's wrong with YOUR words? #sayityourself / jmac tweets 1-20-13
+++
What's the last status update you posted before your computer ran out of jui… / jmac tweets 2-6-13
+++
I guess if I'm going to go for a walk, I have to put on pants. At least in this town. At this time of day. In this century. / jmac tweets 2-7-13
+++
I wonder if it is possible to spread your "pay it forward" self too thin? … (thinking) … NOPE. Don't think so. / jmac tweets 5-23-12
+++
Remember there is no such thing as fighting fair when going for a business win. It is WAR. Play to WIN, not to show or place. / jmac tweets 5-26-12
+++
I'm not so much about the follow and the retweet. I'm about the "What's kickin your ass today? What's floatin your boat?" Let's hear it? / jmac tweets 5-23-12
+++
When you #quote on Twitter. Is it because you can't think of anything to tweet, or because you thought the QUOTE was absolutely essential? / jmac tweets 4-30-12
+++
Good find. Glad you followed me. Um… how did you find me here, again? Sorry, my google analytics doesn't cover the Twittaz. THX (not a DM) / jmac tweets 4-29-12
+++
The last thing I ever heard you tweet: "coupon" "deal" "daily is out" "I'm at" "MLM: /jmac tweets 4-28-21
+++
Oops. I didn't actually mean to follow you, but thanks for the auto-DM. Now I'm not following you any more. / jmac tweets 4-27-12
+++
If you are not LIVE Tweeting (as in really online – not AUTO or SCHEDULED) then you are DEAD Tweeting. Big difference. / jmac tweets 4-25-12
+++
If you're auto-buffer-schedule-tweeting, how will you respond when I DERP you? Huh? How. Will. You. Respond.  DERP! / jmac tweets 4-20-12
+++
When someone really sees you, all kinds of potential open up for both of you. / jmac tweets 4-14-12
+++
How How How can I carry on a conversation with a scheduled TWEET? Auto/Schedules are broadcast media not social media / jmac tweets 4-10-12
+++
When you can't think of something to say on social media, curate. Uh, no… Scratch that. Just be quiet. Thanks. / jmac tweets 3-28-12
+++
The first #Pinterest virus was detected today. It's biological, it makes you PIN shit you don't care about / jmac tweets 3-13-12
+++
When I grow up I wanna be a cartoon character. Who am I kidding, I'm not growing up. EVA! / jmac tweets 3-11-12
+++
I think the distraction of the pretty women at Dominican Joe's has started to outweigh the benefit of their motivation. / jmac tweets 3-10-12
+++
Sometimes you have to turn the statistics off and just TWEET for the hell of it. Other times, STFU. This is an OTHER TIME. / jmac tweets 3-2-12
+++
Let's not think outside the box, let's never get IN THE BOX in the first place. / jmac tweets 2-27-12
+++
I keep hearing reports of everybody running somewhere. Well, CONGRATS, WELL DONE! I've been holding down the fort here on my couch w/ coffee – jmac tweets 2-19-12 (on the morning of the LiveStrong Marathon)
+++
Sometimes I just tweet things that are funny. / jmac tweets 2-18-12
+++
Roses are red, roses are red, roses are read, roses don't really interest me at all. Diamonds either. / jmac tweets 2-12-12
+++
Once I would add people to gain Twitter followers. But the noise on Twitter killed Twitter for me. Now I lose and gain a few a day / jmac tweets 2-6-12
+++
You may not think I'm the most attractive or smart person you've ever met, but I hope you don't think you are. // jmac tweets 2-4-12
+++
What does YOUR cloud look like? Mine looks like: gmail. facebook, txt, voicemail. Oh, and Twitter. / jmac tweets 1-31-12
+++
I see live tweets. // jmac tweets 1-23-12
+++
I know, I know… I shouldn't say it… but "I love every one of you."#sunday #happy #love // jmac tweet 1-22-12
+++
Poned. Pawned. My son says "Poned." I'm like, "No it's pawned, as in chess." Wikipedia says it's both. WTF? WTP? What the Pawn? // jmac tweet 1-20-12
+++
If you have the ability to create, you have the power to influence and educate people. Celebrate the creative. // jmac tweet 1-14-12
+++
If I told you once, I've told you once. Don't make me ReTweet myself. // jmac tweet 1-10-12
+++
Remember folks, curation is a lazy man's content. Write it yourself. //jmac tweet 12-21-11
+++
The tasty coffee is not doing the trick. Cold outside, sleepy inside. Warm cat in bed. Perhaps I follow // jmac tweet 12-17-11
+++
OccupyTwitter with conversations not coupons. #ows #occupytwitter  jmac tweet 11-27-11
+++
I will not prick myself on the thorny regrets of the past.  jmac tweet 6-1-11
+++
I am what I tweet.
+++
If at first you don't ReTweet, tweet tweet again. – jmac tweet 6-26-11
+++
If I repeat myself then I repeat myself. If I ReTweet myself then I'm deluded. (a new angle on Walt W) jmac tweet 5-7-10
+++
It's not what I tweet, it's what YOU ReTweet of what I Tweet that really makes a difference. That's why I tweet so much, it's for YOU. #ha! -jmac tweets 6-17-11
+++
Question: "We're all adults here, right?" – jmac tweets 6-17-11 (ooh, I'm on a roll!)
+++
Hypothetical: What if Facebook went down as often as Twitter? Would people freak? Is it part of our network of necessary? jmac tweet 3-22-11
+++
Chatting with a friend. "Dell has an online innovation position open." Friend, "I will kick your ass if you even think about it." jmac tweet 6-12-11
+++
THIS IS THE NEW SCOURGE OF TWITTER: (generated by @formulists) are you an automaton? (auto-tweet, auto-dm, now auto-list – wOOt) – jmac tweet 4-8-11
I swear if you quote one more time I'm gonna have to unfollow your ass. Say it yourself or don't say it at all. #dontquotemeonthis – jmac tweet 4-8-11
+++
Facebook Commerce discussion: is it called commerce if there's no conceivable ROI? Is it called "social"? – jmac tweet 4-15-11
+++
People with iPhones no longer lust over the the latest phone tech. Why? Because we've got it. #didntlikeandroid – jmac tweet 4-21-11
+++
If you ain't funny, you ain't. – jmac tweet 5-27-11
+++
Android is FUN and all, but when a friend asked why I don't have an iPhone 4 today, my answer was "I KNOW." Looking to jump plans to ATT. jmac tweet 3-30-11
+++
My Twitter Rule is Real Time, Real People, Real Voices. Otherwise it's just RSS or email. – jmac tweet 12-27-09
+++
I'm pretty sure it's not who you follow, it's who you retweet. – jmac tweet 8-25-10
+++
People don't retweet crappy tweets. Like this one, for example. [Please retweet!] – jmac tweet 4-28-10
+++
If you can't think of anything original to tweet, don't. – jmac tweet 9-6-10 (labor day)
+++
Do you sometimes feel like your tweeting to yourself? Even with all these beautiful followers. #crickets – jmac tweet 9-10-10
+++
The road ahead may be behind you. from the post: The Road Ahead: Planning For and Organizing Around What's Next
+++
"Twitter you fail in so many ways, user-experience is one more whale of a fail!" — the twitterjoker
+++
Follow 10 new people a day. (Pick wisely) Unfollow 20 people a day. (Get wiser.) – jmac tweets 9-6-10
+++
I am at HERE now. But I'm going to be at AWAY shortly. I won't be Tweeting at that time. Nor will I be "checking in" thank goodness. – jmac tweets 3-30-10
+++
"We are like a bunch of addicts. We need to be hooked up to wall outlets for our devices with crappy batteries #sxsw Do you have a powa plan?" – jmac tweet 3-14-10
+++
"My blog is still BONK! too much traffic they say at my cloud hosting company. It's MY PROBLEM? #cloudfail#cloudcomputing #cloud #a2hosting" – jmac tweet 3-14-10
+++
TWITTER doesn't need a reDesign it needs a reTHINK. Filtering [ -bieber -4sq -gowalla] & tweep mgmt with more than 20 tweeps per page. – jmac tweet 4-13-10
+++
How do you decide to just WALK AWAY from Twitter and do something else? Close Tweetdeck…. stand up… shut down computer…. greet family! – jmac tweet 1-10-010
+++
>> If you are looking for quotes, here's a linkedIN discussion thread that has a ton of good ones. <<
+++
I'm going to tell you something I haven't told any other thousand people before… – jmac tweet 1-12-010
+++
Quit predicting, quit summarizing, quit tweeting about social media, JUST DO IT, er… um… I mean… What I mean is, carry on. – jmac tweet 1-12-010
+++
Wait a second, Twitter is like a Party Line, except you don't have to pay $1.59 per minute. wOOt! I just figured out what Twitter is. – jmac tweet 12-26-09
+++
Dont be sad that it is over, smile because it happened. — Dr. Seuss
+++
What I do know is that I am a social media participant, an excitable learner, early adopter, a vocal advocate, writer and thinker." jmac redefining my FB statement, november 09
+++
If Santa used 4square: "I'm at Jimmys… I'm at Sarah's… I'm at… Punjab's…" HINT: If you're not Santa I don't care where you "am at"! JMac Tweeted Christmas Eve 2009.
+++
From the back seat: "Mom, did you know, on a scale of 1 to 10, everyone is 5% happier close to Christmas?" "Why, do you think?" "Well, for kids, it's definitely the presents…for grown up's, its…" "That their kids are happy," chimes in his sister. december 09
+++
"If I RT myself I RT myself. I am large. I contain multitudes." Walt Twhitman, Song of Myself (adapted) december 09
+++
"The reason social media is so difficult for most organizations. It's a process, not an event." – Seth Godin  http://om.ly/cvBq
+++
"A night spent panning at the social media gold stream does not necessarily mean you will come away with enough nuggets to pay for breakfast. And to feed a village of folks it's gonna take a few more miners working the stream." jmac measuring social media success, august 09
+++
"NOT having a personal brand is like standing in a stadium full of people and hoping work will find you." jmac tweets, july 09.
+++
"Don't think it's not possible just because you think it's not possible. Or because people tell you it's not possible." -jmac tweets, february 09.  Corollary: They may even discourage you repeatedly. If you believe, keep on the path!
+++
"And in 140 characters there is a limit much like haiku that can contain the world and the joy and the sorrow and the hope." — AliveTribe: In 140 Characters Is There Room for Poetry and Narrative?
+++
"A Thought Leader without ACTION is a Thought Thinker." — jmac tweets, may 09.
+++
"Not a Single Great Website (or design) in History has Been Conceived of By more than 3 people" – Seth Godin ( Fire the Design Committee ! )
+++
Self-reflecting tweet- "I carry on complete dialogues with myself in 140 chars. I amuse myself mildly. Point/counter-point/snipe!" jmac tweets, june 09
+++
#TWITTERRULE 06-09-09 1. No Avatar. UNFOLLOW. 2. Weird name. UNFOLLOW. Hint: if you don't have time to brand yourself I don't either! (seriously, if your doing Twitter get a grip on yourself. I cannot decipher your inside joke of a name or image. And I'm not going to spend too much time trying to figure it out.)
+++
"When it looks like you're multitasking–you're looking at one TV screen and another TV screen and you're talking on the telephone – your attention has to shift from one to the other. You're brain literally can't multitask. You can't pay attention to two things simultaneously. You're switching back and forth between the two. So you're paying less concerted attention to either one."  http://bit.ly/not-add
+++
"There is no time to slay the dragon, the dragon is your friend." — Rashad Field
+++
"The illiterate of the 21st century will not be those who cannot read or write, but those who cannot learn, unlearn and relearn." – Toffler
+++
"More than anything else talented people want to be in environments that both appreciate and cultivate their talents." Scott Berkun  http://bit.ly/team-leadership
+++
Harvard BIZ says this about the role of the Strategic Leader: get the big ideas right, communicate them effectively, oversee their execution, capture lessons learned. (4-21-09)
+++
"Social media is just PR with new tools. One of the tools are social networks. Within a social network, you socially network. :)" Alex Hillman on Social Media @alexknowshtml from twitterrific @juliegomoll
+++
"Always have one killer slide," said my mentor almost daily. – jmac on powerpoint heroics  http://bit.ly/8-laws-powerpoint
+++
Start with your own behavior. How many times have you gone to a meeting that lacked an agenda or a clear set of objects — and didn't do anything about it? How often have you received unnecessary email or reports — but didn't let the senders know that they were clogging up your inbox? How often have you sat through a presentation with too many slides, unclear points, and too much data — but didn't provide any feedback to the presenter? And how often have you been the perpetrator of these complexity-causing behaviors without anyone pushing back on you?
We all allow these things to happen. Often, we're guilty of doing them. But since most people dislike confrontation, we let things slide. It's an unspoken conspiracy: "I won't challenge you if you won't challenge me." The net result is that we unwittingly create a culture of complexity. — Harvard Business Blogs on http://bit.ly/artists-way
+++
Communicate unceasingly – Your passion, vision and strategy*
*The line is from From A Clear Eye on Branding blog by Tom Asaker, in his top ten list for CEO's to keep stress under control.
+++
Love means nothing in tennis.
+++
The Power of Ruby on Rails (RoR)
The RoR community spans hundreds of sites and thousands of user groups because the tools are easier to use and more agile. – jmacofearth http://bit.ly/3-clouds
+++
transmedia experiences: where wayfinding, retrieval, learning and decision making are indistinguishable.  (the garden of forking paths — article)
+++
"You just pick up a chord, go twang, and you've got music." – Sid Vicious (thanks AC!)
+++
glocalization – there are all sorts of cultures that form from identities and communities of practice
+++
Plussing: Taking your work a little farther. Going closer to an edge, whichever edge. Is there anything you can't plus? Anything you can't make simpler, more luxurious, cheaper, more extreme? Anything you can't make more remarkable?
+++
External forces are not what makes a company succeed or fail. It is your passion, commitment and love for your idea that will make or break a company. And just as in life, a successful company is not about the destination, it is about the journey. // blueflavor blog
@jmacofearth
permalink: http://uber.la/twitter_way/tweets/