Idea strikes, first thought: 1. launch app; OR 2. grab pen and paper?
The creative today needs mad skills all around. There is no excuse for not knowing Photoshop, Illustrator, PowerPoint, and what ever other vertical app you might need to design for your industry of interest. BUT sometimes I think we are missing the massive importance of hand skills in favor of computer-aided design.
In the world of work you will frequently be collaborating with teams. And the quickest way to get everyone in a meeting on the same page is to use the white board. (aka hand skills) And I'm not talking drafting or drawing skills, those are more refined and specialized forms of hand skills. I'm talking basic idea sketching, flow chart modeling, and even simple UI (user interface) for an app or a website. If you have pen skills you can often whip out simple design ideas or outline and label complex problems that the team can then begin to solve collectively. If you are dependent on PPT or ILL for your mockups you are SOL if the conference room doesn't have a digital projector.
While tools are dramatic enhancements and extensions of our design skills, you need to know how to wield a dry erase marker and well as a mouse. Visual thinking needs to be taught along side the design and development applications.
Get yourself some white board skills to go along with those app chops.
Here are a few book ideas to get you started.
An example of a user interface for a mobile app I sketched. Necessary screens defined 5. Time from idea to design: 5 minutes. Next step, mock-up screens in tool of your choice.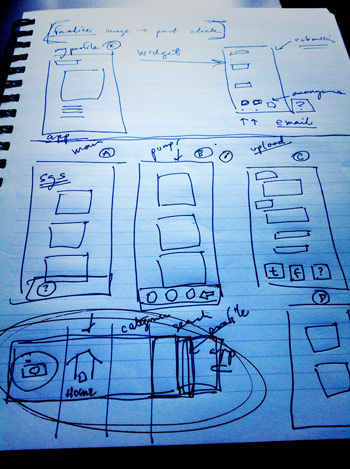 @jmacofearth (also seen on Google+: jmacofearth)