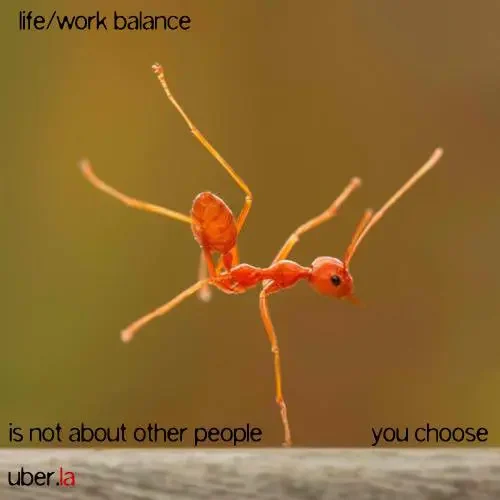 The concept of work/life balance is always a slippery slope. You do really well in your work life and your family life can suffer. But I can tell you, that if you don't have your work sh*t together your family life is going to suffer MORE. When you are not sure that you and your family will survive and you have fallen to the bottom of Maslow's hierarchy of needs, well, in my life experience there is no potential for balance in survival mode.
So here's what I'm getting at. Searching on Indeed and SimplyHired are not near enough if you are stretched to the financial limits due to a lack of contract work or job loss. You have to fire all of your guns at once and dive in deeper than you ever have before. And by opening yourself to the universe and creative flow you may have to give up on determining the exact results, the solution may not be what you think it is.
Here are a few things you need to do if you are looking for a job, or looking to fill your consulting/freelance dance card in 2012.
blog (there's simply no excuse, it's free)
do some videos
get involved with LinkedIn groups
comment on other's blogs
read thought leaders in your specialty
join LinkedIn Learning (formerly Lynda.com)  and learn a new skill, language, program, creative technique
don't think resume, think Google search (put up your resume page)
do reply to job ads on the job boards, but don't believe that you have done enough
call people for lunch, even people that seemingly have no connection to your work ambitions
call people for coffee
go out and get some exercise
be with others often, we can isolate and forget how much we love being with friends
go to some networking events, meetup groups, happy hours
start something new
think of three more things you can do and then actually do them, thinking about them is not enough
As I come out of one of the toughest summers for me personally and economically I wanted to give hope to those who might still be in the dark room, struggling with what to do next, where to find the next gig, how to get hired in this economy. Something is out there if you will begin to flex your social wings. And not necessarily social media wings, that is not enough these days. Social media is important, but you also have to go person-to-person.
In isolation we are alone. In groups, we are a team. Be part of a team, join a team, create a team, and find a team to support. And if there's anything I can do, I am willing to help.
John McElhenney — let's connect online
Facebook & LinkedIn & The Whole Parent
See also:
Please check out a few of my books on AMAZON.