SalesForce and ExactTarget take on Facebook Advertising in a new study. You're welcome to go grab the full thing here Social Advertising Benchmark Report, but I think all you need is the following summary slide from the deck.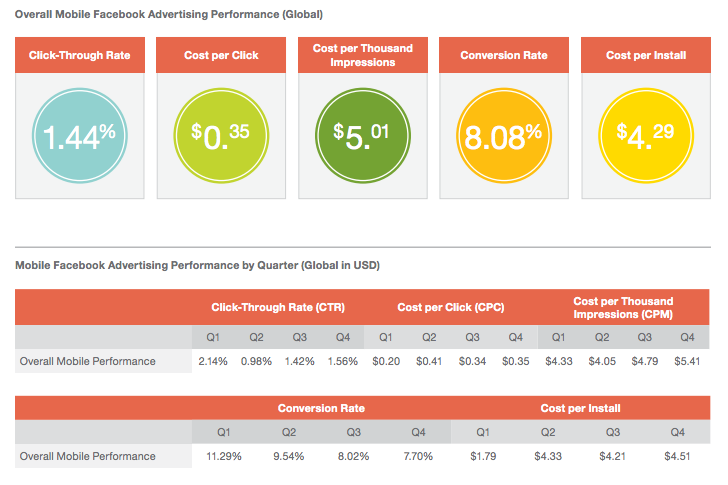 That follows my experience using Facebook mobile ads. If you have an app, Facebook Mobile-Install Ads are like pure gold. For other types of content, the CTR is better, but the costs tend to be higher as well.
Here's what I think we should take away from this report.
Typical FB ad CTR is between 0.01 – 0.05%. So right away, by putting your ad in the mobile stream, you are upping your CTR significantly. The CPC is fairly low in this report, ours tended to range in the $1.10 – 0.85 range. And that conversion rate (in mobile app advertising speak a click to INSTALL) is actually lower than my experience doing FB mobile ads for over a year: we were at about 50% download and on to about 25% of the total then choosing to actually launch and register the app.
Finally, our numbers were also very different depending on if we were promoting a PAID iPhone app ($1.99) or a free (ad-supported) version. Surprisingly our cost per install was much higher for the paid version of the app. So even accounting for the revenue back to the client, the cost per install for a PAID version of the app was in the range of $7. The FREE app cost about $5 per install.
The last detail in the presentation I find valuable is really a concept and graphic rather than a finding. Today's marketing buzzword in the CEO and CMO circles is the "customer journey." How a prospect becomes a lead, is scored and nurtured into becoming a customer, and ultimately how they respond and report their experiences with your company are all part of the journey. It is good to think about the full customer life cycle. Every touch-point along the journey you have decisions to make. At every point along the funnel, of your website, you have opportunities to engage and win the potential customer over.
Here's what SalesForce says about their customer journey relevance in the final slide, sales pitch.
That is your goal, with SalesForce or your own home-grown system of Google Analytics and Excel spreadsheets.
BOTTOM LINE: Connect with your customers on any channel or device, and at any stage along their customer journey.
You can see the same type of results for a ton of geographical areas and business segments in the latest report.
My biggest question about this report is why they didn't title it Facebook advertising. Probably to garner a wider audience. And because Facebook advertising is the big gorilla of B2C social advertising.
John McElhenney — let's connect online
Facebook & LinkedIn & The Whole Parent
See also:
Please check out a few of my books on AMAZON.